Posted by Editor in Beauty Know-How | 0 Comments
Aloe Vera Recipes for Your Skin and Hair
As popularly known, aloe vera is irreplaceable for skin and hair care. It has been considered an everlasting plant with a plethora of uses since the ancient times. The leaves of this wonder plant contain useful ferments, essential oils, vitamins, and more than 20 types of amino acids that's vital for treating inflammations and killing bacteria.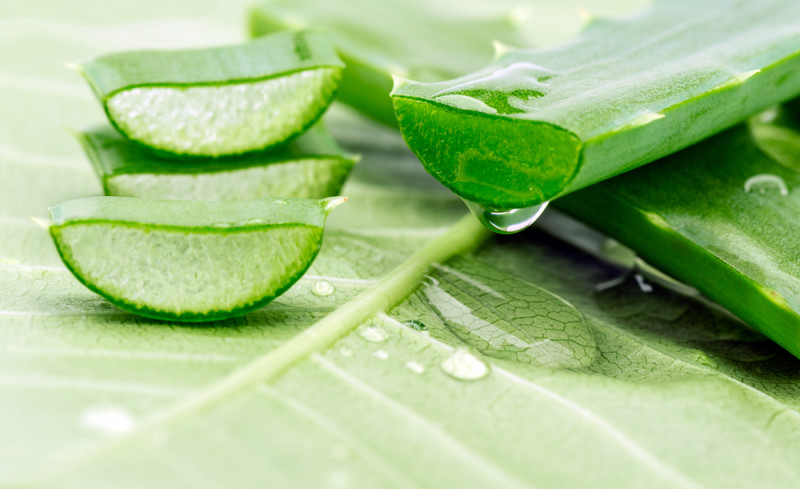 Very frequently, aloe vera gel is among the main ingredients of many cosmetic products here in Singapore. The reason why manufacturers include this mighty ingredient is that aloe safely and effectively gets rid of toxins and takes care of the skin, preventing breakouts and early signs of aging. Such products effectively clean and revitalize the skin making them smooth, soft, and youthful.
As for the hair, aloe is known to contribute to its healthier and faster growth. When looking for a hair care product, make sure to look for aloe vera as one of its ingredients. However, if you want to keep everything organic and ensure full potency of the aloe gel, you can make your own aloe skin and hair care masks at home.
Aloe Vera Face Masks
When preparing a face mask, the goal is to put together ingredients that will perfect—or at least enhance—the condition of our skin. So, here are some DIY aloe masks for different skin types and skin problems.
• For Oily Skin
In Singapore, most people have oily skin due to the hot and humid weather. A good skin care product for those with this skin type is something that's revitalizing and oil controlling. An alternative to drinking aloe vera from Singapore is to DIY your masks with aloe. To create a mask that combats oiliness, whip together one egg white, two tablespoons of aloe gel, and a teaspoon of lemon juice. Apply the mixture to the entire face and wait until it completely dries out. When the first layer has dried out, apply another layer and one more afterwards. After about 20 minutes, rinse with water and put on your moisturizer. The lemon juice helps suck out excess oil in the face, while the aloe gel makes sure that the skin maintains its healthy level of moisture.
• For Normal Skin
For those who are blessed with normal skin, you only need to preserve the balance of moisture in your skin. For your face mask, mix together a teaspoon of aloe gel, sour cream, and egg yolk in a bowl. Apply it the same way as the previous mask.
• For Dry Skin
Dry skin needs some extra TLC to ensure that wrinkles are kept at bay. Mix a teaspoon of aloe vera gel in honey, oatmeal, and hot water. Only apply one layer of the mixture and let it sit on the face for 20 minutes before rinsing off.
• For Skin Revitalization
If you think your skin looks dull and tired, you could use a bit of skin refreshment to bring back the glow to your face. Apply a mixture of honey and aloe vera gel to your face and let it sit for 30 minutes. Rinse with warm water, towel dry, and then put on moisturizer. You can also try mashing an apricot or avocado and mixing it with a tablespoon of aloe juice and olive oil. Apply the same way as the honey-aloe mask, and don't forget to moisturize afterwards.
• For Fighting Wrinkles
Fight wrinkles by amping up the potency of any oily face cream by mixing a tablespoon of it with aloe gel and wheat germ oil or almond oil. Steam your face for 10 minutes before applying the mixture with circular massaging motion for 15 minutes. Afterwards, remove the mask with a cotton swab and apply a layer of whipped egg with a pinch of salt to the face. Leave the egg mask for 10 more minutes before removing with a cotton swab dampened in the infusion of St. John's wort and sage.
Aloe Vera Hair Masks
Just like for the skin, different hair masks can be created with aloe gel, depending on the type of hair problem you want to fix. Here are a few aloe vera hair care recipes to try.
• For Getting Rid of Dandruff
Mix two tablespoons of aloe gel and lemon juice with two tablespoons of castor oil and honey. Apply this mixture to your scalp and massage it in thoroughly. Wrap your hair with shower cap and leave the mask on for 30 to 40 minutes.
• For Weak, Damaged Hair
For an overnight hair strengthening mask, prepare aloe gel, honey, jojoba oil, and warm water in equal portions. Mix them all together and apply to the hair from roots to tips. Wrap your hair in a shower cap and let the mask work its wonders overnight.
• For Oily Hair
To combat excessive oiliness of your hair, create a hair mask that's made with aloe gel, lemon juice, and honey or egg yolk. As mentioned, the acidity of lemon juice helps fight excess oil. And besides controlling oil, the mask helps regain your hair's elasticity, strengthening every strand and keeping it healthy. Work the mask into your scalp and leave it on for 20 to 30 minutes. Do this twice a week to keep oiliness at bay.
• For Stimulating Hair Growth
Mix your aloe gel with castor oil, kefir, egg yolk, and five drops of Vitamins B1 and B6. Apply this rich mixture to your roots and wait for about 20 minutes before washing your hair. Do this two to three times a week and you'll start noticing your hair grows much faster than it usually does.
These homemade aloe vera Singapore skin and hair care recipes are all natural, so don't be afraid to try out any of them. They can all help restore, revitalize, and enhance the condition of your hair and skin without the harsh chemicals and in the most natural way possible.